Write Winning Grants 2022
8:30 a.m. – 12:00 noon
Zoom
---
Overview
This two-day seminar (Jan. 6 and 7, 8:30 a.m. to 12 noon each day) comprehensively addresses practical and conceptual aspects that are important to writing competitive and successful grant proposals. It is designed for faculty, graduate students, and staff who have exposure to writing grant applications and want tips and strategies for effectively presenting their research case.
Participants are taught to write with a linear progression of logic that leads reviewers through their applications. The seminar also emphasizes strategies for writing for two different audiences – the assigned reviewers, who read the application in its entirety, and non-assigned reviewers, who often read little or none of the proposal before the review meeting.
Faculty and research support personnel at all levels will gain new insight from this seminar.
---
The cost of $90 covers the two-day seminar and workbook. Attendees may choose NIH, NSF, USDA, or a general "any agency" workbook. Zoom login information and presentation slides will be emailed to all paid registrants the week before the event. The workbook will be mailed to the work or home address on the registration - please keep in mind that books will be mailed in December so you should list your address accordingly. The workbook is not required to attend the seminar and is supplementary material for use when writing a grant.
Please note: due to our licensing agreement with our speaker, this workshop is NOT recorded.
Registrations cancelled before Dec. 9 will receive a full refund.
Online registration closed on Dec. 9. If you would like to attend, please call the Office of Research and Innovation at (517) 355-0306  - workbooks will not arrive in time for the seminar for late registrations.
Please note: the workbook is not necessary for the seminar but is supplementary material for later writing a grant. The slide presentation and Zoom login information will be sent a few days before the seminar.
---
What previous attendees have to say:
- This was outstanding. I have written more than 40 grants and had eight funded. But I am new to MSU and have never attended a grant writing workshop. This exceeded all of my expectations.
- So impressed that you are able to keep our interest on a seemingly dry topic. Well done!
- Very clearly organized and presented. Worth every penny.
- One of the best workshops I have ever attended; topic and the way it was taught. Well worth an entire day of attendance. Thank you! John is an awesome presenter!
- The handout slides combined with the NIH workbook should provide any health researcher the tools for becoming a successfully funded independent investigator.
- The seminar was extremely helpful, particularly for someone at the beginning of her research journey. Thank you!
-I appreciate the organization of the material and especially the addition of relevant examples. Thank you for the booklet of slides and the agency reference publication - these materials will be important tools to reference in the future. Overall, excellent and very valuable seminar!
---
About the Speaker
John Robertson from Grant Writers' Seminars and Workshops will be the seminar presenter. Robertson is a recipient of competitive extramural funding from both the NIH and non-federal sources. He has served as a member of grant review panels, a reviewer for various biomedical journals, as well as a member of journal editorial boards.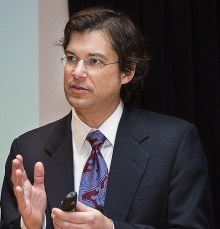 Agenda
Day 1: January 6, 2022**
8:30 a.m.         GENERAL GRANT WRITING CONCEPTS
                         Introduction to the seminar
                         The three requirements needed for success in any application
                         Your idea!

                         Your commitment!

                         Your grantsmanship skills!     
                        The importance of Program Officers/Directors
                        Selling your idea
                        Funding Opportunities           
                        Grant Applications – similarities of all formats          
10:15 a.m.       BREAK
10:30 a.m.       PREPARATION OF THE APPLICATION – General Concepts
                        How to create a compelling Overview/Executive Summary section
12:00 p.m.       CONCLUSION OF DAY 1
Day 2: January 7, 2022 **
8:30 a.m.         Approach/Plan of Work
                        Significance and Innovation
                        Broader Impacts
                        Background and Preliminary Studies 
10:00 a.m.       BREAK
10:15 a.m.       Biographical Sketches and Environment
                        Budget – general concepts
                        Titles
                        Project Summary/Narrative
                        Critical review of your proposal
11:15 a.m.       THE REVIEW PROCESS
                        The concept of peer review
                        Common assumptions about peer review
                        The importance of identifying potential reviewers
                        Recommending or excluding reviewers
                        Implicit vs. explicit review criteria
                        Review and procedures
12:00 p.m.       GENERAL DISCUSSION/QUESTIONS      
*You are strongly urged to view/attend both Part 1 and Part 2 – they are not separate standalone sessions.  We recommend that both parts be viewed/attended.
**Schedule is approximate depending upon scope and extent of discussion.       
---
Michigan State University programs, activities, and facilities are available to all without regard to race, color, gender, religion, national origin, political persuasion, sexual orientation, marital status, disability, height, weight, veteran status, age or familial status. Please inform us if you need any accommodation for accessibility at (517) 432-4499.