Fall Research Update 2019
10/16/2019

Greetings
Welcome back! And a very special welcome to new faculty and staff, including our new president, Samuel L. Stanley Jr., M.D.
As we embark on a new academic year, I'd like to share a number of research successes from across campus, as well as news and announcements to assist you in your research and creative activities. 
Growth
The research enterprise at MSU continues to both grow and diversify. The last NSF HERD report, using 2017 data, indicated research expenditures of $695M. I'm pleased to report that our recent submission of 2018 data was $715M. While that figure could change slightly when finalized, it represents a strong increase over the previous year, including improvements in health and defense projects and related funding. This growth reflects the research productivity of scholars across campus and your efforts are very much appreciated.
Milestones
The Graduate School is celebrating its 25th anniversary! The growth in graduate programs over this time has been tremendous as MSU now offers 288 graduate degree opportunities in 14 colleges. Read more in this special report.
---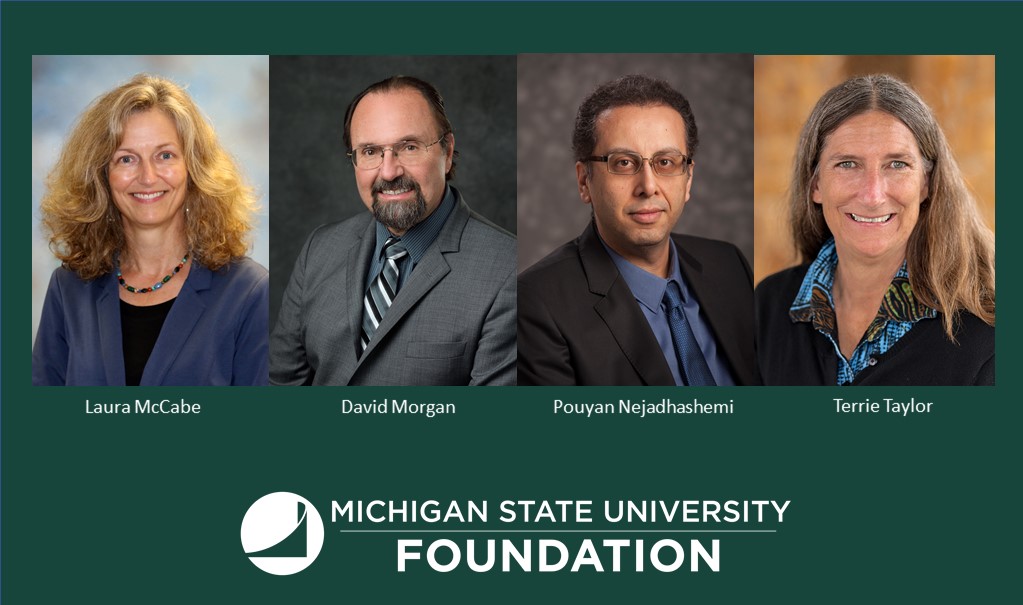 MSU Foundation Professors
It is with great pleasure that I announce the latest faculty named MSU Foundation Professors. From human health to water, these scholars have each made important advances related to the world's most challenging problems. I also want to thank the Office of the Provost and the MSU Foundation for their support of this program. Congratulations to:
Faculty Awards & Honors
MSU faculty have garnered numerous awards over the past few months and several are highlighted below. Be sure to visit the Award News section of the MSU Research website for more faculty success stories, and please contact us if there are additional stories we can include.
Research in a Federal Regulatory Context
The Office of Regulatory Affairs recently published a newsletter with information pertinent to researchers. It provides a number of updates and an overview of services that could be very beneficial to your work. 

On Thursday, September 5, more than 150 MSU faculty and representatives from other universities and companies participated in the 12th annual MSU-FBI Academic Alliance Conference. This year's topic stressed foreign influence on university research. Additional info on these emerging guidelines is available on our website. If you would like to attend the conference next year, be sure to mark your calendars for September 14, 2020.
Research and Innovation Personnel Announcements
Spotlight on Computation
Krishnan, recruited to MSU under the Global Impact Initiative, is an assistant professor in the Department of Computational Mathematics, Science & Engineering, with a joint appointment in the Department of Biochemistry & Molecular Biology. He currently leads a team of students and postdocs working broadly in the areas of computational genomics and biomedical data science. Arjun was recently awarded a highly competitive MIRA (Maximizing Investigators' Research Award - R35) from the NIH MIGMS (National Institute of General Medical Sciences), a flexible 5-year grant for his entire group to pursue multiple projects of interest.
The Department of Computational Mathematics, Science and Engineering's collaborative environment brings together biologists, engineers, astronomers and mathematicians as well as undergrads and grad students. These researchers create models that help tackle complex problems like researching dying stars so we can understand the origins of matter, mapping Earth's interior to better predict earthquakes, and developing novel ideas in network theory to explain complex diseases.
Manifold Podcast
Listen in on recent Manifold podcast episodes with MSU faculty Rebecca Campbell and Joe Cesario. Future episodes are available on iTunes, YouTube, Spotify, and TuneIn.
Joe Cesario, Department of Psychology, reviews his recent work showing that, contrary to many activist claims and media reports, there is no widespread racial bias in police shootings. Joe discusses his analysis of national criminal justice data and his experimental studies with police officers in a specially designed realistic simulator. He maintains that evidence suggests that racial bias does exist in other uses force of force such as tasering but that the decision to shoot is fundamentally different and driven by facts about criminal context in which officers find themselves rather than race.
Rebecca Campbell, Department of Psychology, focuses her research on violence against women and children with an emphasis on sexual assault. She discusses her recent National Institute of Justice-funded project to study Detroit's untested rape kits. Rebecca also describes the problem of untested kits and her work with police departments around the country to reduce the backlog.
Pride point: Campbell was recently honored in Crain's Detroit Business as a Notable Woman in Education Leadership by a team of Crain's Detroit Business editors. Award recipients are selected based on their career accomplishments, track record of success in the field, contributions to their community and mentorship of others.
---
My best regards for a successful semester.
Stephen Hsu
Senior Vice President for Research and Innovation