Chen Joins Research and Innovation as Academic Leadership Fellow
Aug 30, 2023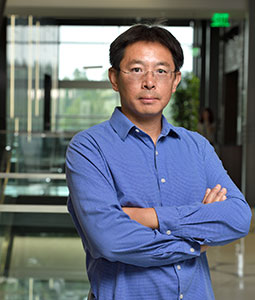 Honglei Chen, Professor of Epidemiology and Biostatistics, in the College of Human Medicine, will be joining the Office of Research and Innovation as an Academic Leadership Fellow for 2023-2024. The Academic Leadership Fellows program creates partnerships between mentors (current administrators) and fellows, and involves both a shadowing experience and work on a project developed jointly between the mentor and fellow. The year-long experience is open to faculty and academic staff who are interested in learning about diverse leadership roles.
"The development of new leaders for the University is an important need," said Doug Gage, vice president for Research and Innovation. "I have been an enthusiastic supporter of the ALF program mentoring three faculty members previously, and now Dr. Chen. Sharing our experience and exposing faculty to these roles play an important role in developing talent."
Chen's current research focuses on neurodegenerative diseases including Parkinson's and Alzheimer's. The goal of his research is to prevent these diseases and mitigate the risk of other neurodegenerative factors. Chen earned his medical degree from TianJin Medical University in TianJin, China, and Master's degree from the Chinese Academy of Preventive Medicine in Beijing, China. In 2001, he earned his Ph.D. in Nutritional Epidemiology from Tufts University in Boston, MA, and then worked as a Research Fellow and Instructor at the Harvard School of Public Health.