Hu Receives NSF Grant for Work on Plant Growth and Reproduction
Jun 15, 2022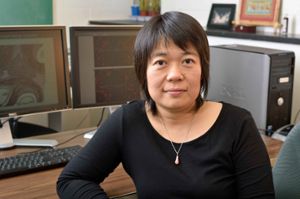 The ability of a plant to grow and reproduce – including the crops we rely on – is directly associated with the motility of organelles within the plant. Understanding how these organelles move is key to developing crops that can survive and thrive in stressful environmental conditions.
Plant cells mobilize their highly dynamic subcellular compartments, known as organelles, to fulfill physiological functions in growth and development. However, the mechanisms by which organelles move and distribute along molecular tracks within plant cells in response to internal and external signals is poorly understood.
To address this issue, Michigan State University plant biologist Jianping Hu has received a 4-year, $900,000 National Science Foundation grant to study the motility of cellular energy organelles, peroxisomes and mitochondria in particular, along the cytoskeleton in the common mustard plant, Arabidopsis thaliana.
The knowledge gained will provide fundamental insights into the principles associated with the motility of plant organelles and perspectives on how these molecular machineries evolved.

Hu's research focuses on the dynamic behavior of energy organelles in plant cells. Peroxisomes and mitochondria are organelles essential to energy metabolism and other crucial cellular functions. Her research in this area has created a foundation on which she can embark on this new project, looking at how these organelles move along the cytoskeleton to be distributed to different localizations of the plant cell.
"This is important because if these organelles don't move within the plant cell, the growth of the plants is significantly compromised," said Hu, professor in the Department of Plant Biology in the College of Natural Science and an MSU-DOE Plant Research Laboratory faculty member. "After all these years of studying the biogenesis, protein import and proliferation of peroxisomes and mitochondria, we are now at a point where we can look into how they move and distribute in the plant cell, as the molecular mechanisms of these processes are unclear.
For the full story, visit natsci.msu.edu