Schmoll Elected President of the International Planetarium Society
Sep 05, 2023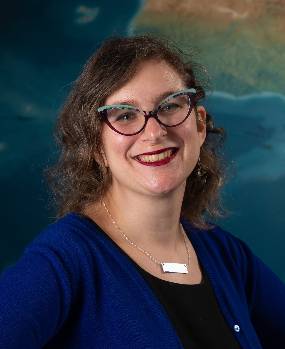 Shannon Schmoll has been elected in the succession to become the next president of the International Planetarium Society (IPS). Schmoll, director of Michigan State University's Abrams Planetarium and an instructor in the Department of Physics and Astronomy in the College of Natural Science, has been a leader in the planetarium community for many years. She will serve a six-year term beginning this year—two years each as president-elect, president and past president.
IPS provides the global community of planetariums "professional development, science literacy and arts/humanities awareness, innovative ideas, and partnerships in order to enhance the world's appreciation and understanding of our universe."
"It is great to see our director of the Abrams Planetarium, Dr. Shannon Schmoll, elected President of the International Planetarium Society," said Stephen Zepf, professor and Department of Physics and Astronomy chair. "Dr. Schmoll has been an outstanding leader of our planetarium on campus ever since arriving here ten years ago. The Abrams Planetarium is a key part of outreach and education in our department and at MSU. More than 10,000 students from across the state visit it each year, it is engaged in outreach across the local community, and it hosts many events as well as being used for courses on campus. Abrams has thrived in these roles under Dr. Schmoll's leadership, and her election as President of the IPS is a sign of the recognition in how well she has done as its director."
While Schmoll has been expanding Abrams Planetarium offerings and partnerships, she has also been an integral part of the international community of planetariums. She joined IPS in graduate school and subsequently served on their equity, diversity, and inclusion committee and their education committee for many years. As she moves into the presidency, her impact will increase.
Read the full story on the College of Natural Science website.