Research Update Spring 2019
05/07/2019

Commencement & Honorary Degrees
This past weekend I had the privilege of participating in several commencement events where we honored the academic accomplishments of our students and recognized the exceptional career and personal achievements of our honorary degree recipients.
Two very distinguished MSU alumni participated in commencement. Michigan Governor Gretchen Whitmer spoke during the advanced degree graduation ceremony and received an honorary Doctor of Laws degree, and former Spartan quarterback Kirk Cousins received an honorary Doctor of Humanities degree and spoke at Convocation.
In addition to the speakers, two exceptional engineers were awarded honorary degrees. William Demmer, a graduate of the MSU College of Engineering and president and CEO of Demmer Holdings, was recognized with an honorary Doctor of Business degree. His success in growing his family business from a local tool and die company to a diverse, globally competitive organization has created numerous employment opportunities for the state.
Reimund Neugebauer, president of Fraunhofer-Gesellschaft, received an honorary Doctor of Engineering degree. As the leader of Europe's largest applied research organization, he has developed significant technical partnerships and made a positive impact on scientific progress and economic development around the world. MSU has served as host of a Fraunhofer USA affiliated research center since 2003.
The next deadline for honorary degree nominations is September 3, 2019. Information on how to complete a nomination packet may be found on the OSVPRI website. We look forward to your suggestions.
Student Research
In celebration of our students, I'd like to share a video from the April Board of Trustees meeting. Undergraduate researcher and Dean's Scholar from the College of Natural Science, Emily Steffke, presented her research entitled "Sweatin' the Small Stuff: Molecular Mechanisms of Stress." She is mentored by Drs. A. J. Robison and Michelle Mazei-Robison in the Department of Physiology, where she studies the neurobiological underpinnings of stress, depression, and addiction. Emily has a very bright future ahead of her.
The Research@MSU website hosts stories of many students and their research successes. We encourage you to visit often.
Faculty Success
Award News
MSU researchers continued to be recognized through prestigious awards in recent months, as well as appointments to international journals, boards, and societies. For example:
Kristen Hendricks, assistant professor of mathematics in the College of Natural Science, is one of 20 researchers to receive a 2019 Alfred P. Sloan Research Fellowship in mathematics. Read full story.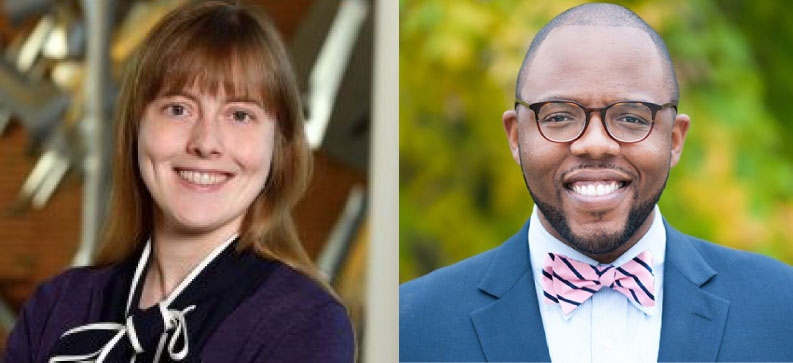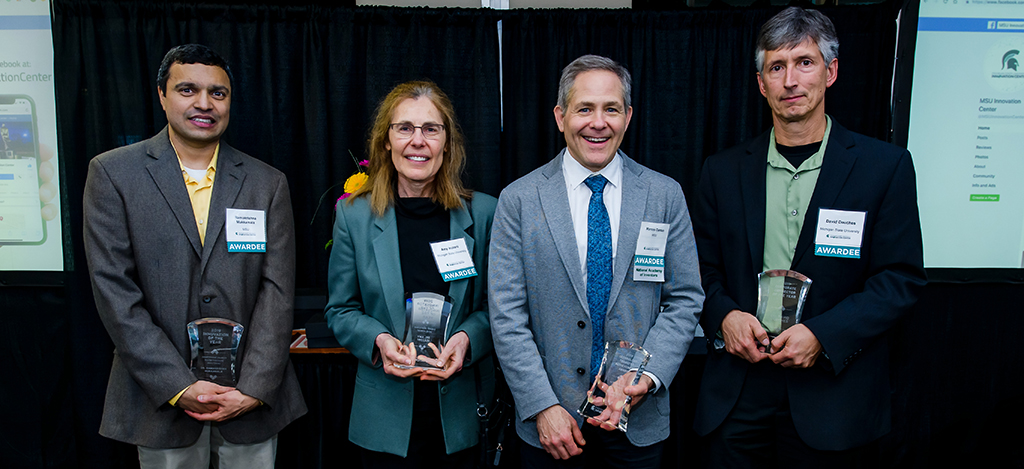 Innovators of the Year
The MSU Innovation Celebration, hosted on April 18 by the MSU Innovation Center, honored four faculty members and one student during an awards program showcasing technologies and startups developed in campus labs, classrooms, and beyond.
The following faculty researchers were recognized during the award ceremony (featured left to right in photo above):
Brianna Makaric, founder and CEO of BRITE bites and Future Founders Fellow, received the 2019 MSU Student Entrepreneur of the Year award.
Read more details about the event and this year's award recipients.
New Podcast Series
The MSU Office of Research and Innovation is pleased to announce Manifold, a new podcast series that aims to take a hard look at today's intellectual issues and controversies from varying points of view.
The show is focused on in-depth discussions with people who are creating or envisioning the future: academics, scientists, technologists, startup entrepreneurs, and venture capitalists.
New episodes are released biweekly on YouTube, iTunes, and Spotify. Listeners can subscribe or simply visit manifoldlearning.com directly to search episodes.
MSU faculty are encouraged to suggest individuals for interview on the series by emailing manifld@msu.edu.
Learn more about this new initiative.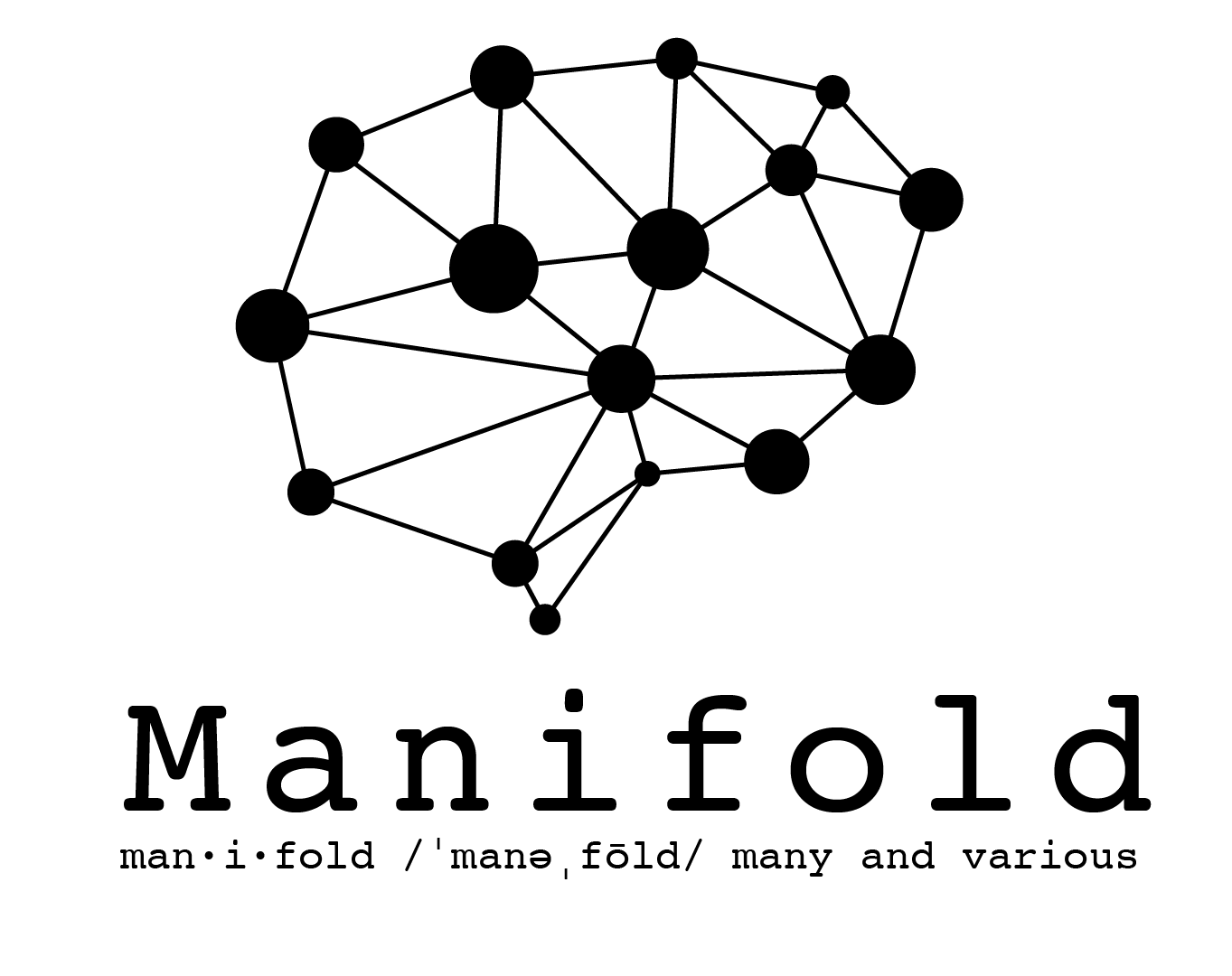 Global Impact Initiative Update
Four years in, "GI2" has made significant progress in recruiting top new talent to Michigan State. With a starting goal of 100 new hires, we have now added 85 researchers at various levels and in diverse disciplines. Three of our new colleagues, Bin Chen, Elizabeth Munch, and Robert Quinn, discuss their latest research in this GI2 update story.
Emerging Federal Guidance on Foreign Influence
Integrity is the hallmark of all great universities. MSU, like our peer institutions, requires honesty and full disclosure of material facts related to foreign affiliations in faculty research and creative activities.
Recently, the U.S. government began a multifaceted effort to raise compliance standards related to foreign influence on research, intellectual property, and associated technology implementation.
OSVPRI wants to emphasize to colleagues at all levels that full and timely disclosure regarding research support and conflicts of interest is essential to the transparency the government requires and MSU expects.
Currently the University requires all faculty to:
MSU values its international collaborators and inter-institutional affiliations. Preservation of important international relationships will be facilitated by our careful attention to federal requirements of transparency in research and related activity.
The Office of Research and Innovation has created a web page to help MSU faculty and staff stay current with emerging federal guidelines. This page will be updated as new information, guidelines, and resources become available.
Upcoming Events - Save the Dates
August 20 – New Faculty Orientation
August 22 – New Faculty RESEARCH Orientation
September 5 - MSU-FBI Academic Alliance Conference