Spectrum Health - Michigan State University Alliance Spring 2023 Funding Opportunity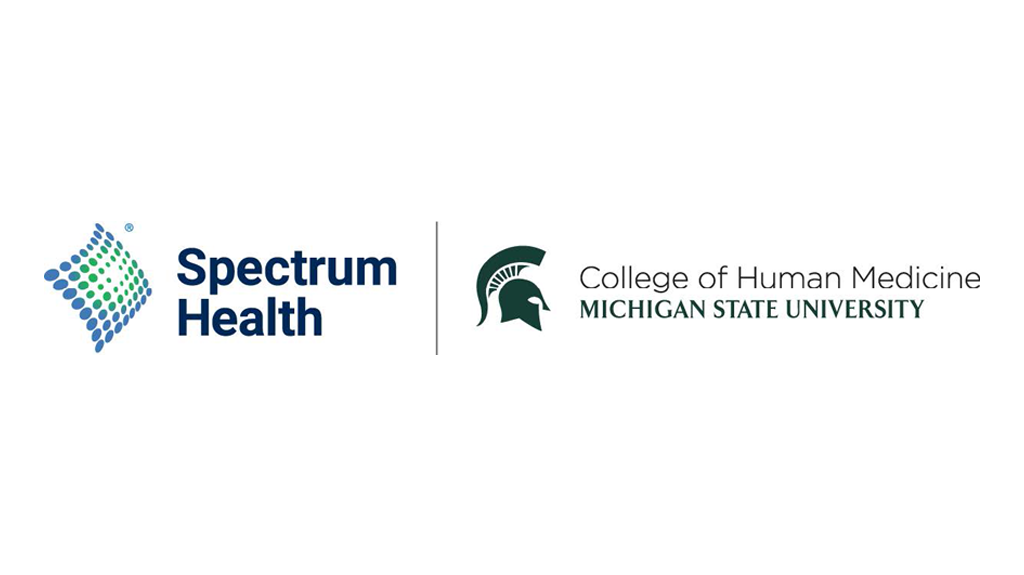 Background
In 2007, Spectrum Health and Michigan State University College of Human Medicine (CHM) formed the Alliance to facilitate collaborative efforts in clinical research and education between the two institutions. Since that time, the Alliance has contributed over $21 million towards supporting joint initiatives to bring innovative and novel research projects to our West Michigan community.
The Alliance is announcing a Spring 2023 funding opportunity. The Alliance is particularly interested in receiving unique and collaborative science proposals that combine both the clinical expertise of Spectrum Health and the scientific strengths of MSU.
The Alliance will support priority applications that reflect the need for start-up funding to further advance innovative concepts and ideas around research and education. Alliance funding may be used to provide foundational support in order to advance institutional strategic programs towards sustainable external funding support.
Timelines
| Stage | Funding Cycle Dates |
| --- | --- |
| Letter of Intent Due | Friday, April 28, 2023 |
| Full Proposal Invitations | Friday, May 26, 2023 |
| Proposals Due (by invite only) | Friday, July 28, 2023 |
| Award Notification | Friday, September 15, 2023 |
Funding Available
Funding is available for either Full Proposals or Pilot Awards.
Full Proposals fund up to $200,000/year, for a maximum of $600,000 over three years. Full proposals are intended to fund studies with existing preliminary data and a proven proof of concept.
Pilot Awards fund up to $200,000 for eighteen months or less. Pilot awards are intended to encourage exploratory/developmental research for the early stages of project development.
Requested support should be commensurate with the work proposed.
Budgets may include costs for personnel, biostatistical support, research materials, clinical support, diagnostic procedures, equipment, tissue/biofluid bio-banking, core services, animal studies, and other resources. Conference travel and publication costs should not be included in budgets. Publication costs may be covered through a different Alliance-funded mechanism, if necessary. Note: Indirect costs are not permitted, and salary support for each PI is limited to 10%.
The utilization of cores and scientific services should be prioritized within each institution compared to use at an outside organization.
If invited to submit a full proposal, study teams will work with their respective sponsored programs offices to develop a budget and budget narrative.
Eligibility Requirements
Applications may be submitted by:
Spectrum Health physicians, physician-scientists, scientists, and healthcare professionals.
Full-time tenured and tenure-track MSU CHM faculty, or MSU CHM Faculty with multi-year, fixed-term appointments.
Principal Investigators from both institutions must be listed as active investigators, as these are multiple PI (MPI) projects, one PI from each institution. Multidisciplinary teams of SH clinicians/healthcare professionals and MSU faculty are encouraged.
Current awardees or recipients of SH-MSU Alliance funds are eligible to apply so long as there is not scientific and budgetary overlap with their current SH-MSU Alliance award. New investigators and collaborations may be prioritized over existing SH-MSU Alliance award recipients.
MSU postdoctoral fellows, visiting and adjunct faculty are not eligible to apply.
Residents and fellows are not eligible to apply without a Spectrum Health physician or physician-scientist as the Principal Investigator.
Projects that highlight a strong collaboration between the two institutions with the clinical and translational research based in West Michigan will be given priority.
Program Priorities
The Alliance is particularly interested in receiving unique and collaborative science proposals that combine both the clinical expertise of Spectrum Health and the scientific strengths of MSU. The key program goals are to support the initial development of multidisciplinary and multi-investigator projects that foster highly innovative or conceptually creative research and scholarship, projects that have the potential for generating significant external funding, and projects that have the potential to further position our institutions as nationally and internationally recognized leaders in translational and clinical research. Projects should focus resources on regions where healthcare is provided by Spectrum Health and its entities. Additionally, the Alliance will accept proposals focused on education programs that meet the above eligibility requirements.
Letter of Intent Materials
For applicants interested in applying, a letter of intent is required and will be reviewed by the Alliance Board before issuing an invitation for a full proposal. Reviewer feedback will not be provided at the Letter of Intent stage. For the letter of intent, applicants are required to submit the items below in the following order:
Project title
Project period (dd/mm/yyyy - dd/mm/yyyy)
Award Type (pilot or full) and total funding request (detailed budget not required for LOI)
SH and MSU Principal Investigators (name, title, institutional affiliation, and contact information)
List of Principal Investigators' current Alliance funding
Key Personnel (name, title, and affiliation)

Key personnel are defined as academic or clinical faculty with measurable, paid effort on the project.
Subawards to other institutions are discouraged but may be considered if essential to the conduct of the research. The intent of this mechanism is to fund research that highlights collaborations at Spectrum Health and MSU.

Project Summary (2 pages)

Background and Preliminary Data *Preliminary data not required for Pilot Awards
Hypothesis
Specific Aims
Significance
Innovation
Impact (short-term and long-term)
Impact on patient care
Submission Instructions
Please use Arial 11 font and 0.5" margins.
Please save the letter of intent package as a single PDF and name the file: LastNameSH_LastNameMSU_LOI_2023
Submit to alliance@spectrumhealth.org by the appropriate due date.
If you have any questions regarding the LOI guidelines or processes, please contact for Spectrum Health, Brandy Jurdzy at alliance@spectrumhealth.org and for MSU, Nicole Doppel at doppelni@msu.edu.