Biomedical Engineering Seminar: Revisiting the Role of Protamines in Sperm Genome Packaging
2:00 p.m.
---
The MSU IQ Institute will be hosting Sue Hammoud from the University of Michigan for a special seminar on July 7, 2023, at 2 p.m. in the IQ Building Atrium.
Event Information
Revisiting the role of protamines in sperm genome packaging
Conventional dogma presumes that protamine-mediated DNA compaction in sperm is achieved by electrostatic interactions between DNA and the arginine-rich core of protamines. Phylogenetic analysis reveals several non-arginine residues conserved within, but not across species. The significance of these residues and their post-translational modifications are poorly understood. Here, we investigated the role of K49, a rodent-specific lysine residue in protamine 1 (P1) that is acetylated early in spermiogenesis and retained in sperm. In sperm, alanine substitution (P1(K49A)) decreases sperm motility and male fertility—defects that are not rescued by arginine substitution (P1(K49R)).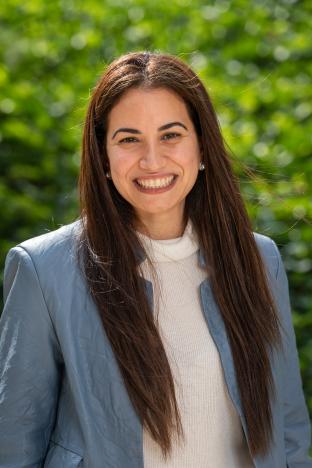 In zygotes, P1(K49A) leads to premature male pronuclear decompaction, altered DNA replication, and embryonic arrest. In vitro, P1(K49A) decreases protamine–DNA binding and alters DNA compaction and decompaction kinetics. Hence, a single amino acid substitution outside the P1 arginine core is sufficient to profoundly alter protein function and developmental outcomes, suggesting that protamine non-arginine residues are essential for reproductive fitness.
Location
IQ Atrium, 2:00 p.m. EST
Zoom Information
Meeting ID: 957 5713 3265
Passcode: BME/IQ