Dr. Arnett, Former AHA President Visits MSU
3:30 p.m.
---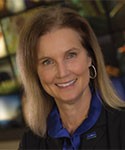 Donna Arnett, PhD, MSPH 
Dean and Professor, College of Public Health
University of Kentucky, Lexington
Past President, American Heart Association
"HyperGEN—Genetics of Left Ventricular Hypertrophy: Omic approaches to understanding echocardiographic traits"
Left ventricular (LV) mass and related echocardiographic phenotypes are heritable, and they are important predictors of cardiovascular disease, particularly in hypertensive individuals. The HyperGEN: Genetics of Left Ventricular Hypertrophy (LVH) Study has been using cutting-edge omic approaches in a cohort of hypertensive sibships to discover the genetic, genomic, and epigenomic correlates of these traits since 1995. As such, HyperGEN: LVH serves as excellent case study to illustrate evolving genetic epidemiological methods and the power, limitations, and challenges of these methods. We will trace the history of HyperGEN: LVH through the eras of linkage and candidate gene analysis, genome-wide association studies, whole-exome sequencing studies, and epigenome-wide association studies into the current era of whole-genome sequencing. The use of animal and cellular models, gene expression analysis, and pathway analysis in conjunction with association studies will also be discussed.