Write Winning Grants Seminar 2020 - Still on via Zoom!
8:00 AM – 5 PM
Online via Zoom
---
Latest update:
We have worked with our vendor to deliver this workshop virtually via Zoom. If you have already registered and paid, you will be refunded $15 since there is no need to provide lunch. The Zoom login information and presentation slides will be emailed just before the event date. Agency workbooks will be mailed to the registration address.
Online registration for this event is now closed. If you would still like to register, please email us. We cannot guarantee that your workbook will arrive in time, but you will be able to attend the seminar.
This all-day seminar comprehensively addresses practical and conceptual aspects that are important to writing competitive and successful grant proposals. It is designed for faculty, graduate students, and staff who have exposure to writing grant applications and want tips and strategies for effectively presenting their research case.
Participants are taught to write with a linear progression of logic that leads reviewers through their applications. The seminar also emphasizes strategies for writing for two different audiences – the assigned reviewers, who read the application in its entirety, and non-assigned reviewers, who often read little or none of the proposal before the review meeting.
What previous attendees have to say:
- This was outstanding. I have written more than 40 grants and had eight funded. But I am new to MSU and have never attended a grant writing workshop. This exceeded all of my expectations.
- So impressed that you are able to keep our interest on a seemingly dry topic. Well done!
- Very clearly organized and presented. Worth every penny.
- One of the best workshops I have ever attended; topic and the way it was taught. Well worth an entire day of attendance. Thank you! John is an awesome presenter!
- The handout slides combined with the NIH workbook should provide any health researcher the tools for becoming a successfully funded independent investigator.
- The seminar was extremely helpful, particularly for someone at the beginning of her research journey. Thank you!
- Great seminar! Very helpful!
- I found that this workshop was instrumental even as I work on my dissertation proposal. Very grateful.
-I appreciate the organization of the material and especially the addition of relevant examples. Thank you for the booklet of slides and the agency reference publication - these materials will be important tools to reference in the future. Overall, excellent and very valuable seminar!
-Good speaker, knowledgeable, great sense of humor.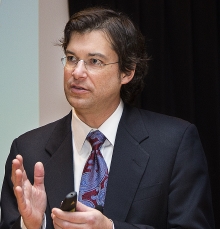 John Robertson from Grant Writers' Seminars and Workshops will be the seminar presenter. Robertson is a recipient of competitive extramural funding from both the NIH and non-federal sources. He has served as a member of grant review panels, a reviewer for various biomedical journals, as well as a member of journal editorial boards.
The cost to participate in the seminar including workbooks is $85. This is reduced from $100 since lunch is not necessary.
---
Michigan State University programs, activities, and facilities are available to all without regard to race, color, gender, religion, national origin, political persuasion, sexual orientation, marital status, disability, height, weight, veteran status, age or familial status. Please inform us if you need any accommodation for accessibility at (517) 432-4499.