Fall Research Update 2017
08/18/2017
Welcome back!
By now I think we are all getting in sync with the new semester. I am sure you join me in wishing well to our returning colleagues and will extend a very special MSU welcome to new faculty joining us. I hope you are taking advantage of the many orientations and educational programs that kick off the new academic year and getting settled into your labs and classrooms. If you weren't able to attend the research orientation for new faculty, the lectures and panel discussions are all available for viewing on the Office of the Vice President for Research and Graduate Studies website under "past workshops."
Milestones
There have been many successes over the past academic year and I'm looking forward to more in 2017-2018 as we continue to grow our research enterprise.
For the 2016-17 academic year, our total gifts and grants exceeded $596M, a new high for Michigan State, and a 19% improvement over five years ago (2012-2017). Here are the breakdowns of where our funding originated in 2016-17.

Based on the National Science Foundation's annual Higher Education Research and Development survey, which is the primary source of information on R&D expenditures at U.S. colleges and universities:
MSU ranks 2nd in the nation for Department of Energy expenditures (2015) and this level has nearly doubled in the past five years (2011-15).
MSU ranks 6th nationally in combined Department of Energy and National Science Foundation expenditures (2015).
University efforts taken to grow National Institutes of Health (NIH) and other health-related funding are beginning to pay off as well. The College of Human Medicine team in Flint, for instance, has recently garnered over $27 million from NIH, Centers for Disease Control (CDC), Substance Abuse and Mental Health Services Administration (SAMHSA) and other health agencies and foundations, to develop new models for public health while serving that community. Likewise, the Grand Rapids Research Center's faculty has a proven track record of strong research and funding, and will continue to grow that portfolio once new colleagues arrive and occupy the new building. Under the leadership of Chris Contag, the Institute for Quantitative Health Science and Engineering is poised to generate significant funding from both NIH and the National Science Foundation (NSF), as the institute ramps up and brings in many senior-level scientists this year.
Global Impact Initiative
The Global Impact Initiative (GI2) continues to make excellent progress in bringing the best and brightest to MSU. Over the last three years, the Office of the Provost along with Office of the Vice President for Research and Graduate Studies, have worked with individual colleges and departments to conduct searches focused on key areas of innovation, such as machine learning, precision medicine, computational genomics, autonomous vehicles, advanced materials, gene-editing, advanced plant science, and more. More than 70 positions have been filled, with candidates hired from Harvard, Stanford, Princeton, MIT, Johns Hopkins University, Lawrence Berkeley National Lab, Los Alamos National Lab, and many other top institutions. But we're not done yet and we look forward to the next year of recruiting. Visit the GI2 website to read news updates and share the job postings.
Facility for Rare Isotope Beams (FRIB) Update
In just a few years – and ahead of schedule – MSU will be home to the Facility for Rare Isotope Beams, which will deliver the highest intensity beams of rare isotopes available anywhere in the world. Estimates of the total investment in this project, both civil construction and anticipated operational budgets, are roughly $1 billion dollars – a huge achievement for MSU.
The Facility for Rare Isotope Beams (FRIB) Project marked substantial completion of civil construction in March 2017. Installations of the accelerator components are now progressing. Technical milestones include the completion of FRIB's "front end"– where the ion beam will start – 16 months ahead of schedule. Additionally, 10 of the 49 beam-accelerating cryomodules have been produced, and all major equipment and piping for the cryogenic plant is complete.
FRIB has received $100 million from the U.S. Department of Energy for fiscal year 2017, and consistent with recent U.S. House and Senate marks, is planning on $97.2 million in fiscal year 2018. The project is scheduled for completion in June 2022; as of now the project team is tracking to early completion in fiscal year 2021. Two-hundred forty MSU students and 540 faculty and staff members work at the FRIB Laboratory, and over 1,400 scientists from around the world are engaged in preparing for science at FRIB.
Great Lakes Bioenergy Research Center (GLBRC) Funding Renewed
The U.S. Department of Energy has selected the Great Lakes Bioenergy Research Center for an additional five years of funding to develop sustainable alternatives to transportation fuels and other products currently derived from petroleum.
In this next phase of funding, GLBRC scientists and recently recruited experts will conduct research that enables the sustainable production of specialty biofuels and bio-products using dedicated bioenergy crops such as switchgrass, poplar trees and sorghum. These bioenergy crops will be grown on marginal – or non-agricultural – land, a shift from GLBRC's previous mission of producing biofuels from crops grown on agricultural land. Read full news story. 
New Grand Rapids Research Center Opens This Month
The MSU Grand Rapids Research Center, an $88.1 million, six-story, 162,800-square-foot facility, is scheduled to open this month, with an official ribbon-cutting event on September 20. The building includes research program spaces and five core labs that will support MSU College of Human Medicine scientists, as well as researchers from Michigan State University's community partners. In November, MSU research teams will move from their leased laboratories at Van Andel Institute into the new research center. Build-out for up to 33 research teams is complete, and future capacity will allow for up to 44 research teams and a total of 260 employees. Areas of scientific study are anticipated to include neuroscience, women's and children's health, and cancer.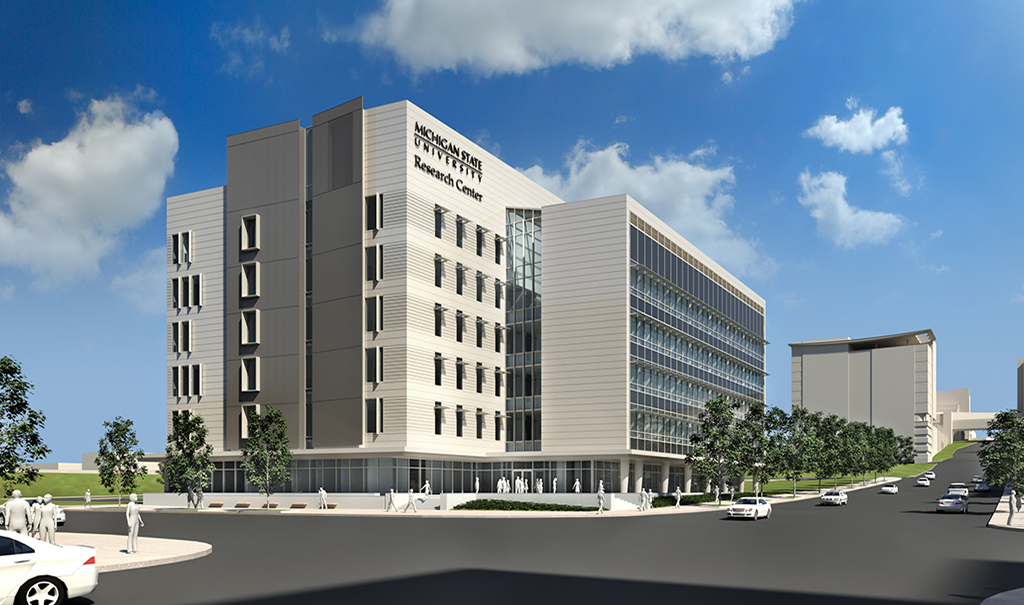 Interdisciplinary Science and Technology Building
The Interdisciplinary Science and Technology Building (ISTB) is part of the Strategic Academic Development Initiative to provide modern teaching and interdisciplinary research space necessary to support significant growth in the STEM (Science, Technology, Engineering and Mathematics)-related fields, with specific emphasis on biomedical.  The 170,000-square-foot building will support the university's investment in the Global Impact Initiative. Construction began over the summer as scheduled, and is making excellent progress toward a goal of opening in August 2019. Follow progress updates and view the live webcam of the construction on MSU's Infrastructure Planning and Facilities' webpage.
MSU Food
A new MSU public awareness campaign led by the College of Agriculture and Natural Resources aims to help consumers make better-informed decisions about their food and their health. A website – food.msu.edu – and a Facebook presence will spotlight food research-related stories. A question-and-answer blog, "Food for Thought," and a series of community roundtable discussions are designed to engage a wider audience in the initiative.
Plant Researcher Elected to National Academy
Congratulations to Douglas Schemske, the latest MSU researcher to be elected to the National Academy of Sciences. Schemske earned the honor for his distinguished and continuing achievements in original research in the fields of population biology and evolutionary ecology. We are extremely proud of Professor Schemske's work on the genetic architecture of adaptation. He is a great exemplar of Michigan State's world-leading faculty in plant science. Read more about Doug and his important his work.
New MSU Foundation Professors Named
I am pleased to announce the latest cohort of researchers to be named MSU Foundation Professors:
Bruno Basso is a professor in the Department of Earth and Environmental Sciences. His research deals mainly with water, carbon, and nitrogen cycling and modeling in agro-ecosystems, and spatial analysis of crop yields. He received the 2016 Innovation of the Year Award from MSU Technologies for his system of cropland evaluation.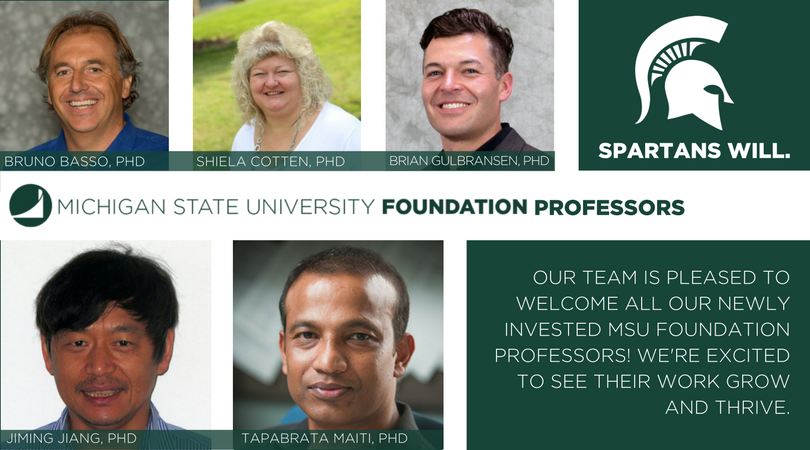 Shelia R. Cotten is a professor in the Department of Media and Information and the director of the Sparrow/MSU Center for Innovation and Research. She studies technology use across the lifespan and the social, educational, and health impacts of that use.
Brian Gulbransen is an associate professor in the Department of Physiology and the Neuroscience Program. The goal of his research is to understand how inflammation in the nervous system leads to long-term changes in neural circuitry, particularly the role of glial cells in nervous system physiology and elucidating how glial changes during neuroinflammation contribute to neurodegenerative diseases.
Jiming Jiang, who joined MSU this fall as part of the Global Impact Initiative, is a professor in the Department of Plant Biology. His research interests include plant gene expression and regulation induced by environmental stresses, including heat, cold, and drought; epigenetic mechanisms associated with plant centromere function; and genetics, genomics, and epigenomics of potato and other crop species.
Tapabrata (Taps) Maiti is a professor and graduate director in the Department of Statistics and Probability, professor in the Department of Marketing, and co-director of the Center for Business and Social Analytics. His research focus is on high-dimensional data analysis, biostatistical methods, mixed models, Bayesian methods, and spatial data analysis.
We appreciate the support of both the MSU Foundation and the Office of the Provost for the MSU Foundation Professor program. Learn more and view the list of previous recipients on the VPRGS website.
Recently named University Distinguished Professors, MSU Foundation Professors and endowed chairs and faculty will be recognized at a special investiture event later this month. Be sure to read more faculty award news and contact our staff at research@msu.edu if you have award stories to share.
Congratulations, MSU Press
The scholarly publishing arm of Michigan State University, MSU Press, is celebrating its 70th anniversary this year. Since its founding in 1947, the Press's mission has been to be a catalyst for positive intellectual, social, and technological change through the publication of research and intellectual inquiry, making significant contributions to scholarship in the arts, humanities, sciences, and social sciences.

HuMetricsHSS Initiative - Mellon Grant
 Etienne Charles: San Jose Suite
Caribbean Rituals Celebrated in MSU Jazz Composition
It is extremely rare that a musician/composer is the recipient of a Guggenheim Fellowship, but MSU's Etienne Charles, an MSU jazz trumpeter and assistant professor of jazz studies, was given one in 2015 to research and create a long-form composition dedicated to traditional Caribbean rituals. We had the pleasure of hearing him present both his research and perform a sample of the jazz composition at a recent MSU Board of Trustees meeting. Take a listen…
Research Administration Project Update
The Office of the Vice President for Research and Graduate Studies is implementing a new research compliance system, ClickTM, to manage MSU's Institutional Review Board (IRB), Institutional Animal Care and Use Committee (IACUC), and Environmental Health and Safety (EHS) compliance activities. Click will help streamline the compliance process and will enhance security and application transparency for investigators. MSU researchers working with human subjects will begin using Click's IRB functionality in December 2017. Subsequently, Click's IACUC component will go live in May 2018. The EHS component, which includes Radiation Safety Committee (RSC), Institutional Biological Safety Committee (IBC), and the Office of Regulatory Affairs Institutional Stem Cell Research Committee (ISCRC), will become available in August 2018. Please visit the Research Administration Project's website to view updated information about Click deployment and educational opportunities.
Patent Policy
The MSU Board of Trustees recently approved updates to the patent policy.  The changes allow more generous royalty sharing with inventors, clarify student intellectual property ownership, and deal with situations when MSU may not assert ownership. As a result of these and other updates, MSU's patent policy now complies with changes in patent law and sets forth an expedited process for exceptions to the policy.
Faculty Awards Reminder
International faculty awards are an important component of institutional reputation and are counted as  institutional indicators of excellence. We want to ensure that MSU faculty, and the university as a whole, receive appropriate recognition for achievements. A number of nomination cycles are currently open, including several awards through the National Academy. Please visit our faculty award information page for information - and keep in mind that our staff is available to assist with application packets, reference letters and so on.
Translational Research Pilot Funding Available
The MSU Clinical and Translational Sciences Institute is offering up to $25,000 in pilot funding for promising translational research projects. In addition, the CTSI Scholars program offers salary and supplies support to qualified medical and nursing faculty interested in developing a clinical research program. Visit the CTSI website for full details and view other internal funding opportunities on the VPRGS Find Funding page.
Grant Support Events
Our premier annual event, Write Winning Grants, is scheduled for January 4, 2018. This full-day workshop walks attendees through the persuasive writing process and provides real examples of success. While intended for new or junior faculty, there is good information for researchers at all levels. Registration will open later this fall. Meanwhile, check out our calendar of events for more information and other workshops, panel discussions on funding and grant writing, and notices on visits from our grant consultants.
MSU Talks
We'll be continuing the conversation this year on the impact science plays in society with our lecture series, MSU Talks. First, up for the fall semester is Robert Hazen of the Deep Carbon Observatory. Read details on the VPRGS website and check out the webpage for MSU Talks for two more events in October.
Communicating Beyond Journals and Peers
Communicating Beyond Journals and Peers
MSU's Communications and Brand Strategy team will be offering workshops for faculty this fall on compelling ways to communicate your research to various audiences. Other workshops to be offered include media training and how to develop your online presence. Visit the CABS Toolkit website for dates and more information about these events as well as registration.