MSU Opera Theatre Merges Operatic Masterpieces with 1960s Setting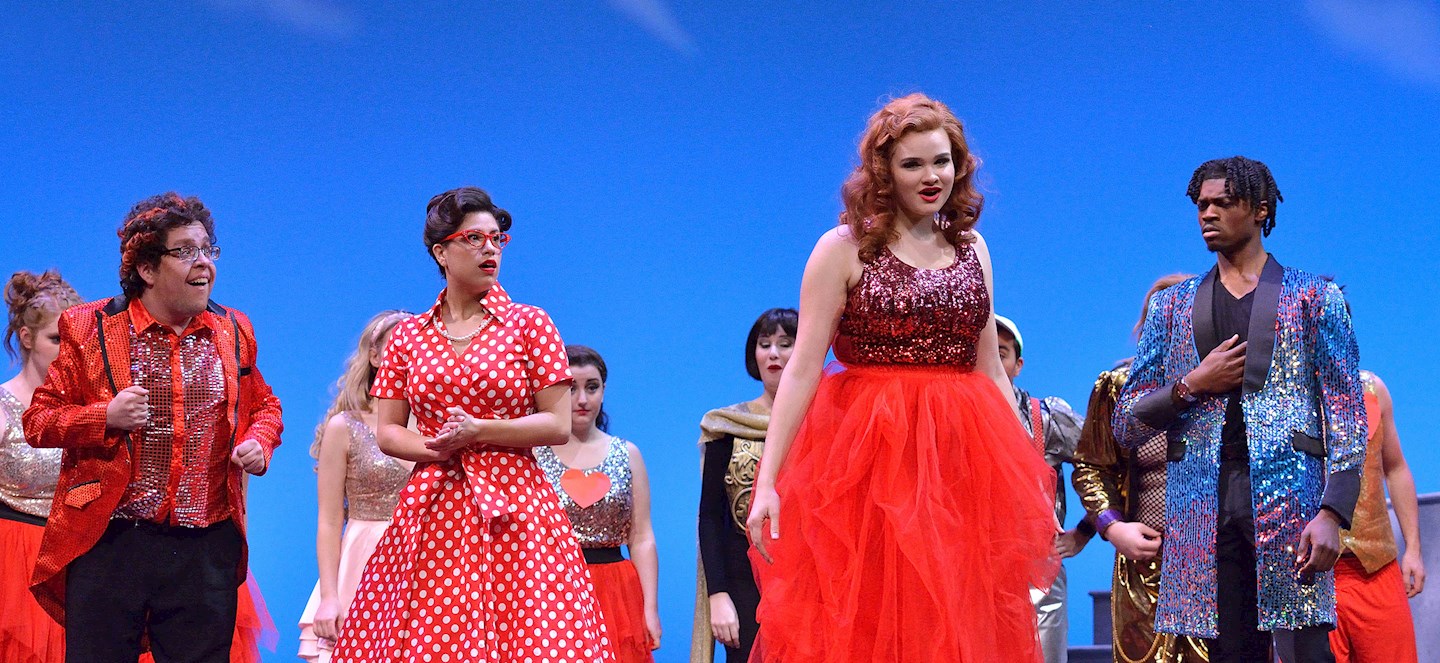 The MSU Opera Theatre presents a fanciful production that weaves 20th-century operatic masterworks into scenes from the life of a 1960s dysfunctional musical family with "Three from the Hearth: A Domestic Dramedy." Envisioned for the stage by MSU Opera Theatre director and professor of voice Melanie Helton, the production features a full cast in imaginative settings in Fairchild Theatre at 7 p.m., Wednesday, Nov. 17th, Friday, Nov. 19th and Saturday, Nov. 20th — as well as at 3 p.m., Sunday, Nov. 21st.
Helton directs The Worthington Family Foundation Opera Season and serves as the stage director for the fall production. MSU director of orchestras Octavio Más-Arocas will conduct the MSU Symphony from the pit, and professor of scene design Kirk Domer from the MSU Department of Theatre is the set designer.
Staged in a Mid-century modern home, this unique "domestic dramedy" depicts the story of a quirky family whose ordinary night turns extraordinary. Inspired dramatic elements paired with thematic orchestral works set to text will engage the audience in surprising experiences that include characters stepping out of a TV and onto the stage, an unconventional game of bridge, and children's toys coming to life. The production unfolds over three acts and features Vaughan Williams' "Serenade to Music" with text by Shakespeare, Samuel Barber's "A Hand of Bridge" with text by Gian Carlo Menotti, and Maurice Ravel's "L'Enfant et les Sortilèges" from "The Child and The Enchantments," with text by Colette.
"We've been in a holding pattern throughout this challenging time," said Helton. "Thanks to our generous donors, a fantastic group of student artists and singers and the incredible talents of our orchestra and theatre areas, we're able to stage a full production that promises to uplift and entertain audiences in a uniquely enchanting way."
Soprano Melanie Helton has directed the award-winning MSU Opera Program for nearly 20 years. "Three from the Hearth: A Domestic Dramedy" is the first of two fully-staged and costumed productions in the LIVE AGAIN 2021-22 season. A third, new event celebrates the vocal arts and features scenes from operatic masterworks.
Upcoming events in the MSU Opera season are "A Celebration of the Beautiful Voice," at 3 p.m., Sunday, Feb. 6, generously sponsored by Nancy and Charlie Seebeck; followed by "Albert Herring" by Benjamin Britten, at 7 p.m., Wednesday, March 23; Friday, March 25; and Saturday, March 26; and at 3 p.m., Sunday, March 27, generously sponsored by James and Susan Bonfiglio. All MSU Opera Theatre events are held in the Fairchild Theatre, with preview lectures held 45 minutes before the performance. The entire MSU Opera Season is generously supported by the Worthington Family Foundation.
Click here for dates, times and tickets. Reserved seating tickets are $22 for adults, $20 for seniors (age 60 and older) and $7 for students. Information on these and other concerts, as well as tickets can be found on the MSU College of Music website.
Access story at MSU Today.