MSU Animal Care Experts Receive National Awards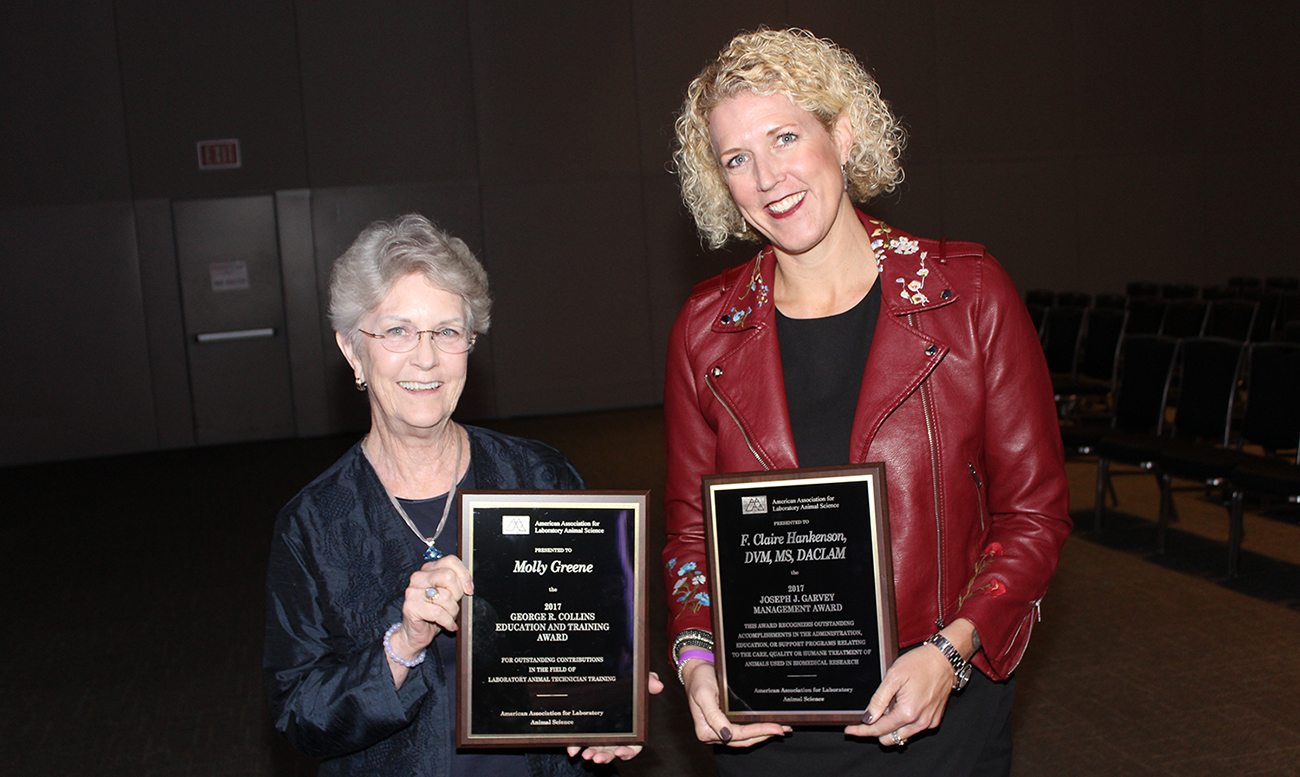 Molly Greene (left) and Claire Hankenson (right) receive their awards during the recent AALAS conference.
Two of MSU's animal care experts were recognized recently for their contributions to training and management of programs by the American Association for Laboratory Animal Science (AALAS) during its national conference on October 15 to 19, 2017.
Molly Greene, BS, (left) received the Collins Award. The George R. Collins Education and Training Award is presented to an individual for outstanding contributions to the field of laboratory animal training and education. Formerly entitled the Animal Technician Award, the award is named after George R. Collins, a member of the first AALAS Animal Technician Certification Board and a pioneer in animal technician education and certification.
Greene serves as a consultant for campus IACUC, monitoring changing regulations and advising MSU staff to maintain compliance in the animal care program. She has more than 30 years of experience working with animal care programs and advising institutional animal care user committees. She was one of the founding faculty of the national IACUC training program, IACUC 101.
Claire Hankenson, DVM, MS, (right) Diplomate ACLAM, received the Garvey Award. The Joseph J. Garvey Management Award recognizes an individual for their outstanding accomplishments in administration, management, or the support of programs relating to the care, quality, or humane treatment of animals used in biomedical research. The award is named after AALAS' first Executive Secretary and was first presented in 1984.
Hankenson is the director of Campus Animal Resources and the Attending Veterinarian for MSU. She is also a professor of Laboratory Animal Medicine at MSU's College of Veterinary Medicine. Hankenson holds more than 20 years of experience in laboratory animal care. She is the past-president of the American College of Laboratory Animal Medicine.
Both experts were instrumental in MSU's most recent accreditation renewal in 2016.
J.R. Haywood, assistant vice president, Office of Regulatory Affairs, applauded the announcement stating, "These awards are great recognition for the many contributions these women have made to their professions. Their achievements are a reflection of the quality of the people contributing to the MSU Animal Care Program."
Read more research news on Research@MSU.