Graduate Student Wins Best Abstract at Portuguese and Hispanic Symposium
Apr 29, 2022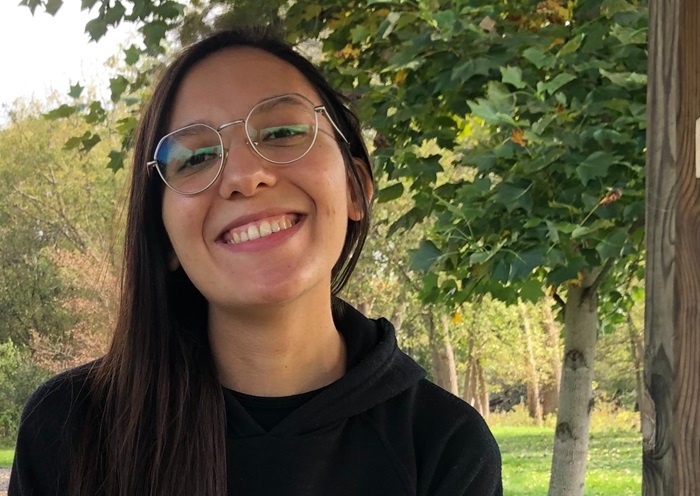 Andrea Hernando, a second-year graduate student in Spanish as a Second or Bilingual Language at Michigan State University, recently won the 2022 Best Abstract in Linguistics Award at the Graduate Portuguese and Hispanic Symposium at Georgetown University. 

Hernando's abstract, "Evidence of belonging: An evaluation of imagined communities in Teletandem," explores the relevance of online platforms like Teletandem in facilitating equitable access to language learning resources and offers an analysis of the ideologies that are fostered in these online environments.
"After taking an independent study with Dr. Meagan Driver [Assistant Professor in the Department of Romance and Classical Studies], I decided to collect data from Teletandem to explore the groups that participants of the program aim to belong to and how this initiative could help or challenge the access to those groups," Hernando said. "I analyzed the narrative of three participants who wrote journals throughout a semester to conclude that they wanted to access a community of native speakers, and the fact that Teletandem offered them sessions with native Spanish speakers made them want to participate."

Hernando's award-winning abstract was her first academic study. She credits hard work and her mentor for the success of the project.

"It was awesome [to win the award]. It was a surprise because it is my first study, but I think that it does not only reflect the amount of work I put into it, it also shows how supported I was in the process," she said. "My mentor, Dr. Driver, was crucial since she gave me feedback and worked with me before and during the process."
Hernando began working on the study at last year's GRAPHSY, where she presented her initial ideas. Returning to GRAPHSY a year later allowed her to reflect on her progress and growth.

"I was excited to share the results of my study this year," she said. "I find the conference's atmosphere great for people who want to engage in conversation and receive feedback in a friendly environment."

GRAPHSY is a student-organized graduate conference, open to both students of literature and linguistics. The conference brings together graduate students from colleges and universities around the country to present their research, participate in mentorship sessions with scholars and professors, and enjoy the talks of invited keynote speakers and panelists.
Hernando hopes to continue her study of online exchange programs in the future. 

"I would like to focus on identity issues and the ideologies that these programs might promote," she said. "I also wish to find ways to make programs like this more accessible to people worldwide, sharing information and resources such as the ones that allowed me to create the program at MSU."

Originally from Catamarca, Argentina, Hernando graduated with honors from Universidad Nacional de Catamarca with a B.A. in Teaching English as a Second Language. She received a Fulbright scholarship in 2018 to teach Spanish in the United States and served as a Spanish Teaching Assistant and culture ambassador at Williams College in Williamstown, Massachusetts. She earned an M.A. in Teaching English as a Second Language from Universidad Europea del Atlántico in 2019.

Currently, Hernando works as a Teaching Assistant in MSU's Department of Romance and Classical Studies. Her research interests include bilingualism, learners' identity, language ideologies, technology for language instruction, community engagement, and language and social justice.
This story has been adapted from an article published by the College of Arts and Letters.