Harry Cridge named One of Two Small Animal Gastroenterology Specialists in the World
Mar 30, 2022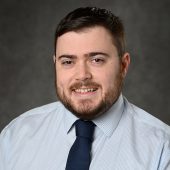 Since the beginning of his veterinary career, Dr. Harry Cridge has made an everlasting impact on animal health, specifically, small animal internal medicine.
Cridge's passion for this specialized animal care pairs with his expertise, having recently obtained additional specialist status in small animal medicine (gastroenterology) by the Royal College of Veterinary Surgeons (RCVS). Cridge is one of two veterinarians in the world recognized in this specialty by the RCVS. His additional accolades include board certification by the American College of Veterinary Internal Medicine and the European College of Veterinary Internal Medicine, as well as membership in the International Society of Feline Medicine and the RCVS.
Read the full story from the College of Veterinary Medicine.