MSU Hosts International Conference on Elemental Analysis and Imaging
Sep 26, 2023
The third annual National Institute of General Medical Sciences (NIGMS) P41 QE-Map Symposium and Workshop convened at Michigan State University, August 22-24, 2023.
The National Institutes of Health (NIH) supports a large network of national research centers through the P41 grant, which is specially designated for Biomedical Technology Research Centers that innovate collaboratively across technological and biomedical expertise. With a focus on metals in health and disease, the Quantitative Elemental Mapping for the Life Sciences (QE-Map) research center at MSU develops emerging technologies to evaluate inorganic signatures, such as metal, in cells and tissues. By studying these inorganic signatures, researchers can better understand the many physical and developmental processes that occur.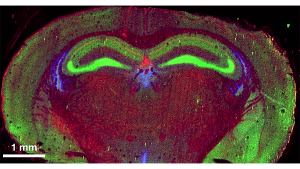 Many leaders at this intersection of biomedical and technological expertise participated in the multi-day symposium and workshop. Leading the charge for QE-Map at MSU is Thomas O'Halloran, MSU Research Foundation Professor of Microbiology and Molecular Genetics, and Keith MacRenaris, Associate Research Professor, Microbiology and Molecular Genetics. Notable remarks were made by research faculty from other institutions and industry partners with a global presence that play an active participating role in the functions of QE-Map, including Chris Jacobsen and Cheng Sun from Northwestern University, Svetlana Lutsenko from Johns Hopkins University, Christoph Fahrni from Georgia Tech, Weilue He from Michigan Technological University, Graham George from University of Saskatchewan, and Martin Tanner from TOFWERK, based in Switzerland.
Founded at Northwestern University (NU) in 2019 with funds provided by the National Institute of General Medical Sciences (NIGMS), QE-Map now resides at MSU, with additional resources at the Argonne National Lab and NU. With some of the most advanced elemental analysis and mapping facilities in the nation, QE-Map features three imaging and detection methods: Laser Ablation Inductively Coupled Plasma Time-of-Flight Mass Spectrometry (LA-ICP-TOF-MS), Scanning X-ray Fluorescence Microscopy (SXFM), and Photoacoustic Microscopy (PAM). These varied approaches allow researchers to measure the distribution of dozens of elements in biological samples. This resource also seeks out requests from researchers and scientists to explore the technology of QE-Map as a collaborative partner or part of a community project.
Two types of hands-on workshops provided opportunities for participants to gain a deeper insight into these remarkable instruments. The first set of workshops placed participants in the lab, preparing samples and using QE-Map tools. The second set of workshops focused on the data analysis of elemental mapping and using specialized software for image analysis. Two poster sessions rounded out the workshops and symposium, giving students, postdoctoral researchers, and faculty comprehensive exposure to the cutting-edge instrumentation and applications being developed at QE-Map over the course of the event.
The possibilities for the future with QE-Map are bright. "It's a new insight into biology," says Doug Gage, Vice President for Research and Innovation at MSU, "this important resource gives MSU an exciting advantage for research in elemental analysis and imaging." MSU is supporting this research with the opening of the Elemental Health Institute (EHI), where teams of interdisciplinary biomedical researchers work together in elemental analysis. Within EHI is the Quantitative Bio Element Analysis and Mapping (QBEAM) Center. QBEAM further examines the relationship between metals and biological systems.
Founding Director of EHI Professor O'Halloran and his team, with support from the Office of Research and Innovation, are celebrating the grand opening of the Elemental Health Institute and the QBEAM Center on October 4, 2023 from 4-6 pm at the ISTB building. This event is open to the MSU community and refreshments will be served.