MSU Research Foundation Awards $5M Grant to Fund Infrastructure, Research Focused on Plant Science, Global Sustainability
Jan 18, 2023
Michigan State University recently announced it will receive a $5 million grant from the MSU Research Foundation to advance its world-class program in the plant sciences and critical research in the mitigation of and adaptation to global climate change.
The grant complements the university's and the state of Michigan's investment in the greenhouse complex and the proposed new plant and environmental sciences building. Additionally, the grant enables MSU to continue its long-standing international leadership in advancing research and initiatives in plant science, environmental and water quality, food security, climate change mitigation and economic development throughout Michigan and around the world. 
"Michigan State University is dedicated to promoting interdisciplinary research that will play a critical role in addressing the challenges of climate change and sustainability," said Interim President Teresa K. Woodruff, Ph.D. "This grant will support faculty who are focused on developing innovative solutions for these vexing problems and training the next generation of leaders who will make global impacts in these fields."
The grant aligns perfectly with core elements of the research pillar in the MSU 2030 Strategic Plan and fills critical gaps not addressed by recent significant investments from the university and the state of Michigan.
Specifically, funds will be used to:
Upgrade MSU's Growth Chamber Facility, which continues to be one of the best in the U.S. Growth chambers allow researchers to control environmental conditions when studying plants, and the grant funds will help update the chambers to increase energy efficiency and capacity while allowing for new capabilities for growing plants in complex environments.

Acquire and integrate cluster and other hardware and software upgrades for the Institute for Cyber-Enabled Research, or ICER, and its High Performance Computing center. These resources are particularly critical for MSU's remote sensing program, research and precision agriculture.

Modernize and update the W.K. Kellogg Biological Station, or KBS, greenhouse and laboratory complex. KBS, located near Gull Lake, is one of North America's premier field stations for climate change mitigation research in agroecosystems.

Enhance and acquire state-of-the-art instrumentation for stable isotope ratio mass spectrometry and other core technologies used to determine the environmental sources of greenhouse gases, understand and improve carbon fixation and uncover key plant-microbe interactions. 
MSU's Office of Research and Innovation is administering the grant.
Plant, environmental and ecological sciences continue to be flagship programs at MSU and, collectively, are critical to understanding global climate change, environmental degradation and food security.
Of the 10 MSU disciplines ranked in the top 50 of the Global Ranking of Academic Subjects 2022 by Shanghai Ranking, four fall within the scope of the research supported by this grant. MSU's demonstrated strengths in environmental sciences and engineering (No. 7), agricultural sciences (No. 12), ecology (No. 32) and remote sensing (No. 49) measured against peer institutions enhances its position as a global research leader in climate, agricultural and environmental sciences.
Additionally, eight of the 10 MSU members of the National Academy of Sciences represent plant sciences or related disciplines, indicating the high caliber of these faculty. Forty-six percent of inventions disclosed to MSU's technology transfer office come from the College of Natural Science and the College of Agriculture and Natural Resources, indicating a strong correlation to plant and agricultural sciences and interrelated environmental sciences.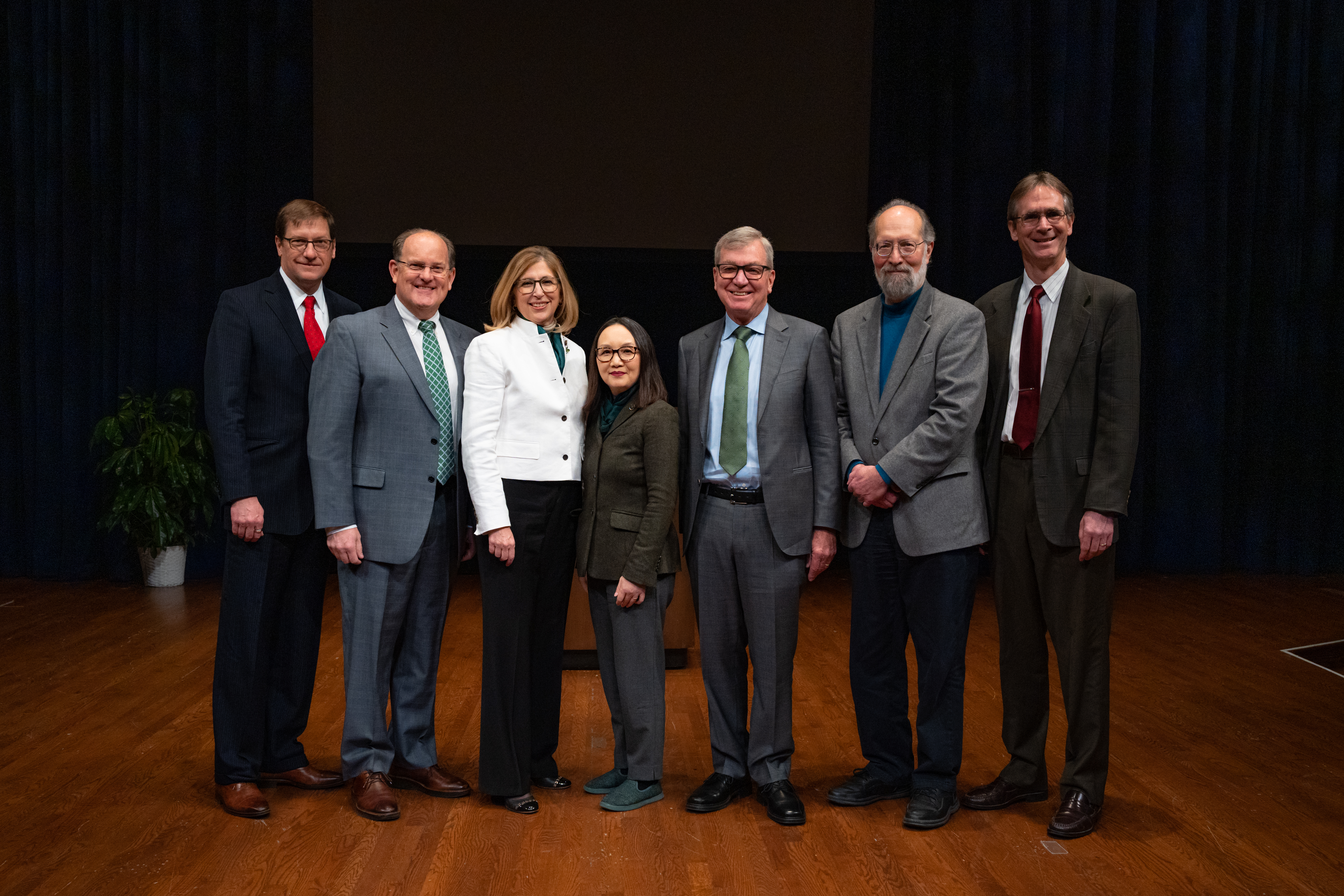 Over the past five years (FY 2018 to FY 2022), the College of Agriculture and Natural Resources' technologies have consistently generated the largest percentage of royalties received by MSU Technologies, the university's technology transfer and commercialization office. 
"The facilities and instrumentation enhancements from this grant will accelerate our progress and retain and recruit the talent needed for MSU to reach and surpass our goal of $1 billion in annual research expenditures," said Doug Gage, vice president of the Office of Research and Innovation at MSU. "Modern, up-to-date infrastructure is essential for us to recruit and retain a team of scientists to create a diverse, inclusive and welcoming research environment." 
"I would also like to thank the MSU faculty who served on the Plant Science Excellence Committee IV," added Gage. "Their work to strategize and forecast future needs was essential to developing our proposal to the Foundation."
The MSU Research Foundation is a 501(c)(3) nonprofit that was established in 1973 and since then has provided more than $380 million in funding to MSU. It also contributed $10.2 million for university research for the 2021-22 academic year and budgeted $10.7 million in research funding for the 2022-2023 academic year.
The MSU Research Foundation is governed by a separate board of directors with a strong desire to provide, in addition to its annual grant program, a one-time gift to support an emerging project related to a research topic deemed important to the university. This additional grant, therefore, exists outside of the foundation's normal annual giving to MSU and specifically supports MSU's research excellence and influence.
"Our annual grant to Michigan State is a core tenant of our mission at the MSU Research Foundation," said Randolph Cowen, the foundation's board chair. "Through programs and resources we provide, our organization is the margin of excellence that helps set MSU apart from its peers, and this grant will enable MSU to build on its unique strengths."
Whether it's supporting specific programs within the university like graduate research or faculty recruitment, the annual foundation grants have been used to bolster MSU's reputation as a world-class institution.
"The foundation's ongoing investment at MSU reaches all corners of the campus," said David Washburn, executive director of the MSU Research Foundation, "and this flexible resource provides support to focus on new opportunities to create, learn and grow."
The resources are spread across campus and are generally in line with strategic initiatives agreed upon by MSU executives and the MSU Research Foundation Board of Directors and include technology commercialization, entrepreneurship, faculty recruiting, faculty retention, strategic partnership grants and more. The grants are also tightly aligned with MSU's strategic plan.
About the MSU Research Foundation
The Michigan State University Research Foundation is a nonprofit research foundation formed in April of 1973 focused on technology commercialization and economic development. The foundation manages an endowment built from decades of intellectual property licensing revenue and provides over $10 million in research funding to MSU annually. Additionally, the MSU Research Foundation operates subsidiary organizations focused on providing entrepreneurial support and programming, pre-seed and early-stage venture funding, and the Foundation holds and develops incubator facilities and select real estate assets important for entrepreneurs and MSU's corporate relationships. www.msufoundation.org