Spring Research Update 2017
02/22/2017
Greetings. I'd like to report on a number of research-related developments happening across campus.
At their December meeting, the MSU Board of Trustees gave the approval to proceed with construction of the Interdisciplinary Science and Technology Building, a 170,000-square-foot facility, which will play a key role in support of MSU's Global Impact Initiative. Its location, adjacent to the Bio Engineering and Life Sciences buildings and other core research facilities, will allow the new facility to play an integral role in MSU's development of a neighborhood for scientific research in the biomedical and biological sciences. The project is expected to cost about $100 million and will come from the general fund. Construction will begin August 2017 and is projected to be finished in August 2019. The rendering below depicts the Grand Rapids Research Center, which will be used as the model for design of the new Interdisciplinary Science and Technology Building.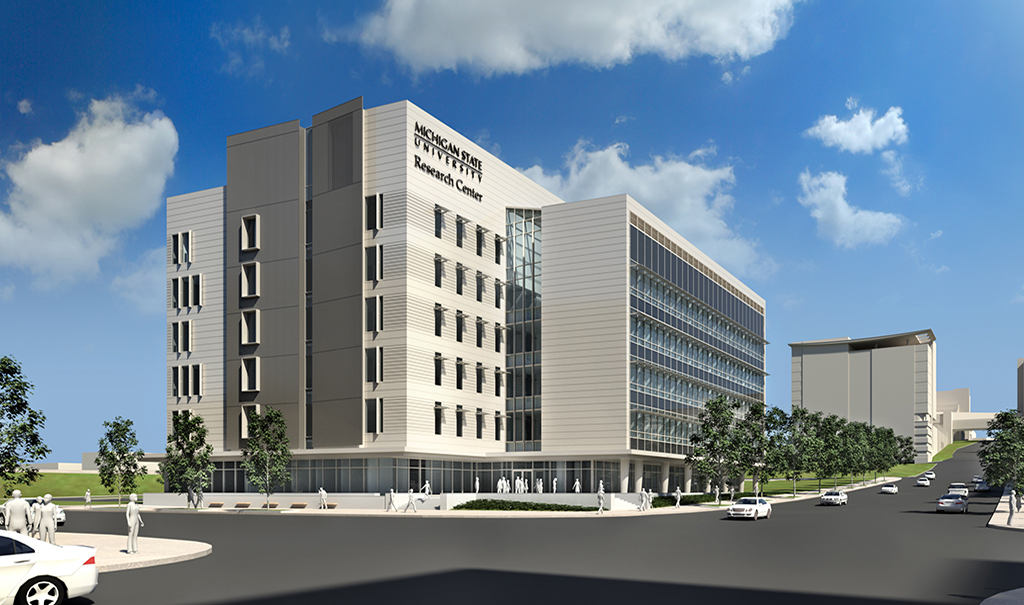 A recent cooperative agreement between Michigan State University and the National Science Foundation will result in up to $122.5 million in continued funding over five years for the National Superconducting Cyclotron Laboratory. The new funding will cover the period until the under-construction Facility for Rare Isotope Beams becomes operational, which is expected to be in 2021.
A $4.8 million grant awarded from the National Institutes of Health will help Michigan's top three research universities (MSU, Michigan and Wayne State), Henry Ford Health System, and the Michigan Department of Health and Human Services, investigate how exposure to a range of environmental factors in early development influences the health of children and adolescents. Nigel Paneth, University Distinguished Professor of epidemiology and biostatistics in the MSU College of Human Medicine, will lead the group of five co-principal investigators of the NIH ECHO initiative (Environmental Influences on Child Health Outcomes).
Michigan State University assistant professor Jose Perea is the principal investigator on a collaborative research project funded by the Defense Advanced Research Projects Agency (DARPA). A two-year, $1,637,726 DARPA grant has been awarded to MSU and five other universities to develop novel computational, geometric and topological tools to represent complex spatio-temporal dynamics in a way that allows for control and prediction of the underlying physical systems including turbulent systems and the dynamics of dense granular media.
A new $5 million venture-investing subsidiary of the Michigan State University Foundation called Red Cedar Ventures will help MSU-based business startups overcome early funding gaps, accelerate growth and obtain growth-stage capital. In the past four years, the MSU Foundation has deployed more than $2 million in pre-seed funding to more than 20 companies. Red Cedar Ventures will continue this kind of pre-seed investment. Additionally, the Red Cedar Opportunity Fund will allocate $5 million to select, follow-on investment rounds that are led by professional venture firms.
Michigan State had a record-setting year in terms of technology transfer,  including 179 inventions disclosed, 66 annual licenses and options filed, and $1.4M in royalties distributed to faculty and departments. For more details and to read about the Innovators of the Year, view the MSU Innovation Center 2016 Annual Report.
Congratulations to Emilio Moran, Hannah Distinguished Professor, Department of Geography, Environment and Spatial Sciences, the Center for Global Change and Earth Observations, and the Center for Systems Integration and Sustainability. He was appointed by former President Obama to serve on the National Science Board of the National Science Foundation. The 24-member board and the NSF director are jointly responsible for recommending and encouraging the pursuit of national policies for the promotion of research and education in science and engineering. The board also influences the research direction of the NSF and acts as an independent body of advisers to both the president and Congress on matters of policy.
The Office of Regulatory Affairs has good news to share with the MSU research community: Recent visits by accrediting organizations have resulted in Full Accreditations of the MSU Animal Care Program and the Human Research Protection Program. The Association for the Assessment and Accreditation of Laboratory Animal Care visited the MSU campus in June. At the September Council Meeting, Full Accreditation was awarded. The Association for the Accreditation of Human Research Protection Programs site visit was conducted in September, and their Council awarded Full Accreditation in December. In addition, the Nuclear Regulatory Commission paid MSU a surprise visit in December. No major findings were reported as a result of the visit.
Announcements:
COI – Be sure to submit your Conflict of Interest statement by February 28. Visit the CIO website for questions or training.
Research Administration Project – In April 2017, the MSU research community will begin using the Research Administration system (Kuali Coeus or KC) to develop, approve, and submit grant proposals and budgets, and to disclose conflicts of interest. To ensure precise software operation and to facilitate the transition process, in February and March the project will conduct a pilot deployment with participating colleges to test the system's proposal development and conflict of interest functionality. Instructor-led classes will be offered now through April 20, 2017, to help prepare faculty and administrators to use the incoming system. Please review the Research Administration Project's webpage to view all updates regarding the system deployment, system documentation, and educational opportunities.
Communications – Registration is now open for Communicating Beyond Journals and Peers: A Communications Workshop for Academics presented by Communications and Brand Strategy and the Media Sandbox (a division of the College of Communication Arts and Sciences). Learn more and sign up now.
Grantsmanship Support – The VPRGS team offers a number of services related to grant writing, editing, budgets and more. VPRGS can also assist with application packets for external awards. Check out the Proposal Prep section of the VPRGS website and join our email list to receive funding opportunities and notices on workshops and events.
Faculty Spotlight:
Based on suggestions from college research associate deans, this list highlights select awards announced since August 2016. To read more about these stories and others, visit the Awards and Announcements sections of the MSU Research website and please contact our communications staff if you have submissions to be added.
Seven Michigan State University faculty members have earned a spot on the Reuters Thomson highly cited researchers list for 2016.
Alicia Alonzo, associate professor, Department of Teacher Education, has received the Presidential Early Career Award for Scientists and Engineers (PECASE).
Susan Bandes, professor and director of Museum Studies, Art History & Visual Culture, has received positive acclaim for her new book, "Mid-Michigan Modern: From Frank Lloyd Wright to Googie." Published by MSU Press, the book depicts modern architecture in the mid-Michigan area.
Tamara Butler and Yomaira Figueroa, assistant professors in the Department of English and African American and African Studies Program, have each been awarded a 2017 Career Enhancement Fellowship. Funded by the Andrew W. Mellon Foundation and administered by the Woodrow Wilson National Fellowship Foundation, the award allows exceptional junior faculty to pursue scholarly research and writing.
Etienne Charles, jazz trumpeter and critically acclaimed composer in the College of Music, was a member of a four-person White House panel invited to discuss the impact of Caribbean culture on America.
Christopher Contag, chair of the Department of Biomedical Engineering, will receive the 2017 Britton Chance Biomedical Optics Award from SPIE, the international society for optics and photonics.
Gwen Dease, associate professor of percussion, was asked by computer-music pioneer Paul Lansky to record her interpretations of his three pieces for the mallet instrument. Her CD is now receiving outstanding reviews.
Ernest "Del" Delfosse and Doug Landis, both professors in the Department of Entomology, have been named fellows of the Entomological Society of America (ESA) for their outstanding contributions to entomology and career achievements that inspire other entomologists.
Megan Donahue, professor, and Brian O'Shea, associate professor, Department of Physics and Astronomy, have been elected as 2016 fellows of the American Physical Society (APS).
Megan Donahue was recently elected as President of the American Astronomical Society, the major

professional organization in North America for astronomers, other scientists and individuals interested in astronomy.

She will begin her term in June.
James L. Dye, University Distinguished Professor Emeritus of chemistry, was notified that the National Academy of Inventors (NAI) has named him an NAI Fellow.
Barbara Given, a University Distinguished Professor and associate dean for research in the College of Nursing, will be inducted as a Fellow in the American Psychosocial Oncology Society.
Matthew J. Hirn, assistant professor, Department of Computational Mathematics, Science and Engineering (CMSE), is the recipient of a prestigious 2016 Young Faculty Award (YFA) from the Defense Advanced Research Projects Agency (DARPA).
Xuefei Huang, professor, Department of Chemistry, has been selected to receive the Melville L. Wolfrom Award from the American Chemical Society (ACS). The award acknowledges outstanding service to the ACS Carbohydrate Division and to the field of carbohydrate chemistry.
David M. Kramer, Hannah Distinguished Professor in photosynthesis and bioenergetics, is the 2016 recipient of the International Society of Photosynthesis Research (ISPR) Innovation Award.
Richard E. Lenski, Hannah Distinguished Professor and evolutionary biologist renowned for his E. coli Long-Term Experimental Evolution Project, has received a 2017 Friend of Darwin award from the National Center for Science Education (NCSE). Lenski is one of only three scientists nationally to receive the award this year.
Anand Nair, and Srinivas Talluri, both professors in the Department of Supply Chain Management, were recently announced as Fulbright scholars.
Piotr Piecuch, University Distinguished Professor of chemistry, and adjunct professor, Department Physics and Astronomy, has been named a Fellow of the Royal Society of Chemistry (RSC). His work focuses on the development of ab initio quantum theory of molecular electronic structure and other many-body systems.
Thomas Pinnavaia, University Distinguished Professor Emeritus, Department of Chemistry, and James Smith, professor, Department of Entomology and Lyman Briggs, have been named AAAS Fellows by the American Association for the Advancement of Science.
Yue Qi, associate professor, Department of Chemical Engineering and Materials Science, has been awarded a national 2017 Brimacombe Medal from The Minerals, Metals & Materials Society (TMS) for significant contributions in multidisciplinary computational materials science.
Xiaobo Tan, MSU Foundation Professor, Department of Electrical and Computer Engineering, has been named a Fellow of the Institute of Electrical and Electronics Engineers (IEEE), the world's largest professional organization for the advancement of technology.
Terrie Taylor, University Distinguished Professor, College of Osteopathic Medicine, has been awarded the Ben Kean Medal by the American Society of Tropical Medicine and Hygiene.
Mohsen Zayernouri, assistant professor, Department of Computational Mathematics, Science and Engineering and the Department of Mechanical Engineering, has earned a three-year grant to support his research as result of being given a 2017 Young Investigator Program Award by the U.S. Air Force Office of Scientific Research.
Sharon Zhong, professor in the Department of Geography, Environment, and Spatial Sciences, has recently been elected as a Fellow of the American Meteorological Society (AMS).
Elise Zipkin, assistant professor, Department of Integrative Biology, has been named a 2017 Early Career Fellow of the Ecological Society of America.